On Hinduism
Hinduism is a fluid religion. There is no one person/ prophet/ messiah who can be credited with 'founding' it; and there is no point of time which can be said to be the start point.
Hinduism is a
way of life
. As a result, it has in-built allowances for geographical, economic and climatic realities. So, a Hindu living in prosperity in Punjab will follow certain aspects of the religion and another middle-class Hindu living in Thiruchirapally will follow some other aspects.
The basic tenets of Hinduism are the following: (
and like with everything else, these will vary from person to person; these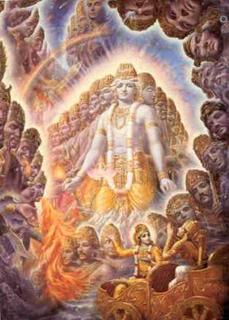 are what I perceive
).
1.
Inclusion
: While later religions like Christianity and Islam are built on exclusivity, mine is an inclusive religion. It does not have
one God/ one Master
and it does not treat non-believers as infidels. It sees the divine in that
One Supreme Soul (paramatma), Great Souls (mahatma..
many of them) and the
ordinary
soul
(atma)
. There are Hindus who pray to that One Supreme Formless Divine; others who pray to the various Gods we have in different shapes, forms and sizes; still others who do not pray to anyone. So, there are shades of theism, monotheism, polytheism and atheism all at once.
2.
Rituals:
Our religion is practised through rituals, some of which are pagan by nature and some are abstract, metaphysical experiments. Since this religion developed amid a growing civilisation, it incorporated nature-worship, animal-worship and people-worship. From the time one is conceived in the mother's womb to the time one is consigned to flames, every event has an associated set of rituals. We have rituals for sowing, rituals for reaping; rituals for invoking rains, rituals to contain floods.. and so on. This is what fascinates and intrigues the average foreigner who comes to India.
3.
Self-development:
The key to being a good Hindu is an ongoing quest for finding the divine within.
Yoga,
which has become such a fad in the West, is the obvious manifestation of this quest.
Yoga
means
sum
and it stands for the coming together of the body, mind and soul. Different forms of
yoga
address the three different aspects individually and collectively.
4.
Tolerance:
Perhaps it comes from the point of inclusion above, or from the concept of
karma
which essentially says "your destiny is driven by what you have done in this birth and in births past, and no one but you can help you change it". Hindus are very tolerant of diverse views, other religions, other people and situations in general. This sometimes is labelled as "lack of killer instinct" and leads to us accepting mediocrity.
In all, my religion does not call me to follow dogmas, nor does it ask me to hate another.
In recent times, there have been negative developments in my religion but that is material of another post.